A new Tapas & Wine ComPairing menu is the latest addition to the experiences that can be enjoyed at Idiom. Ideal for small groups, these multi-course sharing plates are aimed at exploring the different taste sensations that we are able to perceive: sweet, sour, salty, bitter and umami. Carefully selected Idiom wines will then complement or contrast the dishes, leaving everyone with an opinion while they post pics of the creative dishes. Interactive and educational, this activity is bound to stimulate the senses and generate debate and discussion. This itinerary will also be offered outside of traditional lunchtime hours from 10h-12h and 15h-17h and is a perfect way to discover and explore the extensive range of wines at Idiom. The different tapas have fantasy names some of which are inspired by the colour spectrum, flavours and textures of the different pairings.
Minimum 2 people for this 60-90 minute activity. There are 3 different itineraries. Two different routes of 6 wines & tapas can be explored from R360 per person including wines, or explore the Full Monty of 8 wines can be enjoyed at R480 per person. Call 021 8581088 or email reservations@idiom.co.za to book.
---
Idiom will remain open for sundowners every Friday until 9pm over season so come along to enjoy a sunset glass of wine or some tapas from our new menu. The tapas menu will run from 18h00-19h30. Antipasto platters and pizzas will also be available.
Sunset Fridays at Idiom will start on Friday 15 December 2017 and continue until late Jan. Booking is recommended.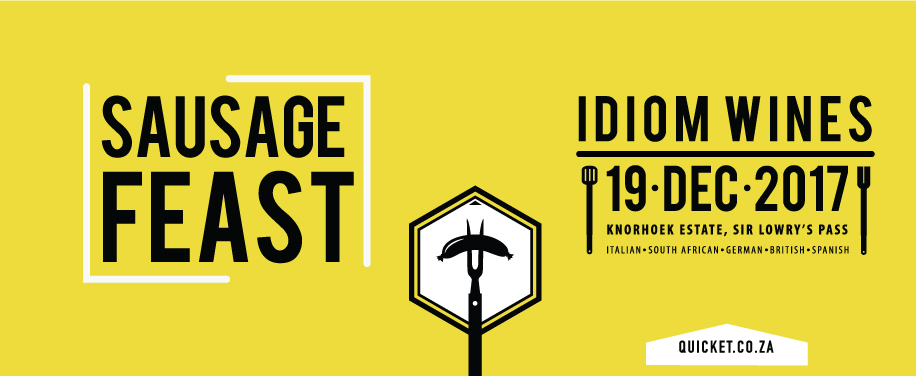 Which country makes the best sausage? Find out at the Sausage Feast at Idiom on Tuesday 19th December 2017 11h-21h. Come decide for yourself while taking in the magnificent views of the Cape at Idiom Wines' 2017 Sausage Feast! Try sausage dishes from around the world including Italian Salsiccia, German Bratwurst, Spanish Chorizo, British Bangers, American Hotdogs, or our own lekker South African boerewors all accompanied by matching regional Idiom and imported wines, local and foreign beers, ciders, gins and other drinks. Each adult ticket includes a sausage and a drink coupon. Mini and maxi versions of each dish will be available meaning you can have a real Xmas sausage feast. Live music, a kid's activity space and tractor rides will mean that the whole family can be entertained so round up family and friends and come along to Idiom for an afternoon or evening of sausage fun.
Tickets: R150,00 for adults, R50 for kids. Visit Quicket.
SAVE THE DATE of the 3rd and 4th of March. This year our Italian Festival will take place the first weekend in March. Last year 1700 people attended the 2-day celebration of all things Italian. Don't miss out in 2018.
For more information, email Roberto on events@idiom.co.za.