Idiom has been selected as one of the participating wineries in the 2022 South African Wine Tasting Championships (SAWTC). The Idiom Viognier 2019 and Idiom 'R' Rodanico Blend 2016 are among this edition's 51 potential wines to be identified by South African tasters.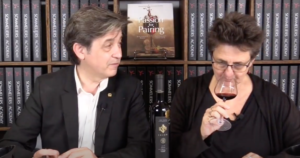 Tasters competing in the competition each receive 10 anonymous samples, 5 red wines and 5 white wines. Each participating pack comes with a link to the SAWTC YouTube channel, which hosts short descriptive videos to assist in the identification of these wines.
Watch what Cathy van Zyl MV and esteemed sommelier Jean-Vincent Ridon have to say about our Viognier and Rodanico blend.
Idiom Rodanico Blend Tasting| Idiom Viognier Tasting
SIGN UP FOR OUR NEWSLETTER OR FOLLOW US ON FACEBOOK FOR ALL NEWS AND EVENT UPDATES