The CellarClub is on a mission to bring the Winelands to Cape Town. The home of CellarClub is a 160-year-old tunnel in the heart of Cape Town at the V&A Waterfront. The historic tunnel was originally used to transport rock from the quarry to the breakwater to build the harbour and, since then, has served multiple functions throughout history before becoming the wonderful tasting venue it is today.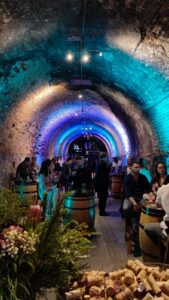 Idiom presented a wine tasting in this special venue on the evening of Wednesday the 14th of September. Playing to the theme of bringing some of the Winelands to the guests, each table was decorated with some proteas and indigenous fynbos straight from the beautiful sensorial gardens of Idiom. This also highlighted the fynbos aromas in some of the wines presented during the evening.
The masterclass hosted by our brand ambassador explored the concept of Idiom being a celebration of terroir, unusual cultivars, masterful blends and age-worthy wines with the lineup including Idiom Viognier 2018, Idiom Rosso di Stellenbosch 2018, Idiom Zinfandel (Primitivo) 2018, Idiom Barbera 2018, Idiom 'C' Cape Blend 2016 and, last but not least, the Idiom Shiraz Mourvèdre Viognier 2013.
With Idiom being one of the pioneers in Italian cultivars in South Africa, we thought it was very important to showcase these on the evening. Many people in attendance were discovering (and enjoying) these cultivars for the first time.
SIGN UP FOR OUR NEWSLETTER OR FOLLOW US ON FACEBOOK FOR ALL NEWS AND EVENT UPDATES